2016
Keiko will attend Venice IFF from the 3rd till the 8th of September to represent our 2 new first features.
Both films are competing for the Luigi de Laurentiis's Lion of the Future Venice Award.
Gukoroku – Traces of Sin, a psychological thriller competes in the Orizzonti Section.
Ishikawa's feature debut follows a reporter who investigates an unsolved homicide case in which a man was brutally murdered along with his wife and child. Featuring local stars Satoshi Tsumabuki and Hikari Mitsushima, the film is a joint production between Takeshi Kitano's production company Office Kitano together with Bandai Visual, TV Tokyo, Warner Bros Pictures Japan and Tohokushinsha Film Corporation.
The Nobodies (Los Nadie), a fresh Punk drama competes among the 8 films of the Settimana della Critica.
Love, hate, broken promises and five friends meet in the streets of a hostile city. The Nobodies, young people united by wanderlust, find in street art and music, the place of refuge and an opportunity to escape. A first feature full of promises directed Medellin's filmmaker Juan Sebastian Mesa.

Venise 2016
Intl Press – Gukororku-TRACES OF SIN => Richard Lormand
Intl Press – LOS NADIE => The PR Factory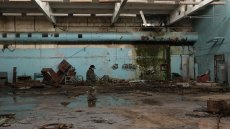 by Myroslav Slaboshpytskiy
A neo-noir space odyssey taking place in the Chernobyl exclusion Zone.  
more
Screenings
Luxembourg (in development) is part of the Venice Production Bridge.